Welcome to Earth Sky Tantra.
My name is Kaiho Prem, and I'm a certified practitioner and educator of Tantric bodywork and massage therapy. Tantra Massage is commonly known as a therapy form that centers around Yoni Massage (therapeutic genital massage for women) or Lingam Massage (therapeutic genital massage for men). While Yoni Massage is an important part of what I practice and teach, it is just one element of a much wider, holistic therapy experience, which helps a client not only to grow and explore in the dimension of sexuality, but also on the levels of emotions, energy, heart and spirit.
The main locations where I offer Tantric Bodywork are Copenhagen (Denmark), Chiang Mai (Thailand) and Tokyo (Japan).
Location schedule 2021: Chiang Mai (Mar -> Sep), Tokyo (Oct -> Dec)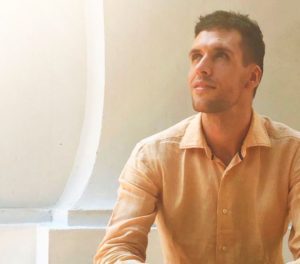 It is my honor to help my clients reach joy and fulfillment in life. I strive to offer everyone exactly the journey that you require. Every person has different needs at different points in life, and I give you my guarantee that I will shape your session to your individual situation. Whether you require release from tension or trauma, you want to connect deeply to your sacred feminine nature, or you would like to expand your boundaries of joy, sensuality and pleasure, I will commit my full presence to what your soul is truly calling for.
I also teach introductory courses into Tantric connection and massage.
To feel completely accepted without boundaries.
To experience pure Love through touch, without weight nor expectations.
To become anew in the light of timelessness, without judgement.
To come closer to oneself. To dare to let go of fears. To stop overthinking.
To feel gratitude for what IS.
This was a simply healing delight.
Thank you, Kaiho Prem 
(Testimonial by A., Medical Secretary / Belgium, May 2018)
-> More testimonials from my clients <-
-> About the benefits of Tantric Massage therapy <-
-> About the practical flow of a Tantric therapy session <-
-> Session types and pricing <-